9.16
Designed for applications that are even more demanding...
The Climber 9 Series range is designed for applications that are even more demanding. You may have larger areas and longer grass than a normal ride on mower can handle. Your mowing might be demanding and a big ask, even for quality ride on mowers. The Climber 916 with it's heavy duty body, safe, low, stable design and aggressive cutting system, and differential locking will handle very long grass, and mow easily on slopes up to 30 degrees. It's powered by the Briggs and Stratton 16Hp TWIN engine, and features front brakes which enhance control on slopes even further.
The Grillo Climber 9.16 is generally used in more demanding applications and on small to medium sized properties around 3 - 5 acres. Designed for challenging conditions this machine is ideal for properties where an owner mainly wants to mow less frequently and the grass may often be long at the time of mowing.
The Climber 9.16 is ideal for owners who live on the property, for brush or fire break control or for mowing when the operator wants to rather than when the length of grass dictates a mow. As well as being a steep gradient mower it does a superb job cutting flat areas and produces an excellent finish.
The Climber 9.16 has been specifically designed to handle demanding mowing - long grass, steep gradients and undulating and rough terrain. Perfect for the most testing environments where it would be impossible to take other mowers, the Climber 9.16 mows gradients of up to 30 degrees. Its low centre of gravity and central weight distribution make it very stable. As well as steep areas, the Climber 9.16 also mows down grass over a metre in height and the differential lock enables users to mow and maintain traction when the ground is damp or slippery.
The Climber 9.16 goes places a Tractor can't go! The Climber 9.16 manages rough terrain and steep hills easily. The Climber is a unique machine because it was designed specifically for mowing on hills, slopes, paddocks and uneven terrain. Where the use of other types of mowers and tractors is limited or unsuitable, the Climber exceeds in these testing environments.
The Climber is also set apart by its high quality engineering and manufacturing. It's sturdy design and high build quality is completely durable and the machine stands up to tough Australian and NZ conditions. Safety. Its low centre of gravity enables the Climber to handle steep and undulating terrain safely and competently. The driver is positioned directly over the cutting deck and sits low in the seat. The driver's feet can be positioned in several positions so the design of the Climber is quite different to other mowers. The results of this give more stability, control and safety for the operator. This is a safe machine for other family members who wish to mow.
The Climber 9.16 has been designed as a 2 wheel drive machine for maximum maneuverability. It also features differential lock which allows the user to manage any tricky areas by depressing the diff lock pedal to engage both rear wheels simultaneously. Agility. The Climber is highly maneuverable on both flat areas and also on hills and cutting around trees and bushes. The steering wheel features a "broady" knob that makes steering simple and removes the effort of using two arms to turn the wheel. It also allows the user to keep one arm free to safely manage either the cutting height or acceleration.
Once the property has been brought under control an optional mulch kit can be fitted on 9 series machines to provide a manicured finish.
Front brakes
High wheel grip and Differential Lock for traction to conquer those steep slopes Low engine noise
Hydrostatic transmission
A large 13 litre fuel tank to enhance productivity
Engine roll bar fitted
Tow bar fitted as standard
Will safely go places a tractor can't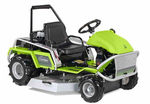 Grillo Climber 9.16 Ride on Mower
Call for Price