7.16
More power to mow thicker, longer grass ...
The Climber 7.16 features the low slung design, excellent stability, front brakes and differential lock of the Climber 7.13, plus it features the 16HP Vanguard TWIN Briggs and Stratton engine, giving you even more power to mow down thicker and longer grass, and power out of slippery conditions.
The Climber 7.16 is generally used on medium sized properties up to 3 - 4 acres and where the terrain underfoot is smoother and therefore the machine can be a lighter build than the heavier 9 series models which suit rougher applications.

This machine has a 34" (85cm) cutting width and 16HP V-Twin cylinder Vanguard engine.
The Climber 7.16 will tackle terrain and long grass that other mowers can't cope with and allow you to mow safely in damp and slippery conditions.
With more engine power than the smaller 7.13 model, travelling up and down steep slopes is easy even while mowing long grass.
This machine has a hydrostatic gearbox which uses hydraulic oil to provide the motive link between the engine and the wheels. No gears = increased reliability.
The 7.16 has dependable front brakes not available on other machines which allow you to brake the mower when mowing downhill and increases safety in case of emergency stopping.
Differential locking increases traction by engaging both drive wheels simultaneously when slipping occurs. This allows the Climber to mow when slippery or dry and over rough round where other mowers struggle.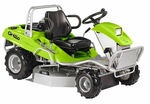 Grillo Climber 7.16 Ride on Mower
Call for Price