Farm Pressure Pumps

400 SERIES – Onga Hi Flo Pumps
Product Description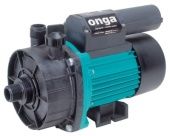 The 400 series of Onga Hi-flo pumps are constructed of the same corrosion-resistant materials as the bigger 140 range, so they'll also deal well with tough circumstances. They provide water flows up to 270 litres a minute or maximum pressure up to 26 metres.
Model 413 is ideally suited to circulation duty in hydroponic greenhouses, while this model and the 415 are available moulded in heat-resistant materials for high temperature applications, like vat washing and other cleaning operations. With casings moulded out of strong ABS, these pumps are built to take on the harshest and most corrosive environments.
---
OJ RANGE
Product Description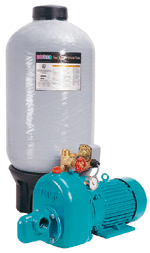 The Farmmaster OJ series are the flagship of the Onga range, offering performance, efficiency and reliability in a solid cast iron casing. These pumps have evolved with the needs of Australian farmers and landowners since Onga's beginnings in 1967. They have benefited from over 35 years of outstanding pump engineering.
The OJ range perform reliably in almost any situation – whatever you need to do with water, you can rely on an Onga OJ. They are perfect for drawing water from any convenient source and taking it where you need it. Their tall design means that the impeller is never operating in air, so priming is never a problem.
OJ pumps equipped with deep well injectors can handle suction lifts down to 49 metres. Strong cast iron construction, industrial spec motors, and precision-moulded components work together to provide a rugged and reliable pump for your important applications.
Injectors
Shallow Well
Onga offers a range of 19 shallow well injectors to adapt the JJ and OJ range to your pressure and flow requirements.
Deep Well
Along with the range of shallow well injectors are 23 deep well injectors for lifts greater than 7.6 metres.
---
JJ RANGE
Product Description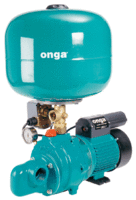 The Farmmaster "Junior Jet" JJ range are compact and efficient pumps. Constructed in cast iron with precision-moulded hydraulic components, they are built for many years of hard work. For those looking for a household pump for a large home, the JJ400 or JJ600 can provide strong pressure throughout.
The JJ range can also be equipped with deep well injectors which are ideal for supplying water from sources where the suction lift is greater than 7.6 metres. In fact, they can be set up to draw water from any source down to 40 metres. If your source changes, the JJ range can easily be converted between shallow well and deep well applications – there is no need to buy another pump.
| | |
| --- | --- |
| Features | Benefits |
| High efficiency moulded impellers | Lower running costs with high performance |
| Coated cast iron construction | Ultimate strength and longevity |
| Adaptability | Can be engineered to fit almost any situation |
| Long suction possible | Take water from any source |
| TEFC industrial motor | Reliable and efficient drive |
---
18 Series
Product Description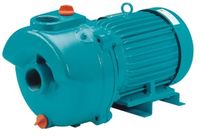 Available in cast iron, and featuring the same award winning Hi-flo impeller, these pumps are the first choice for strength, rigidity and reliability. Models are available with maximum flows from 400 to over 1000 litres per minute, with maximum pressures from 35 to more than 50 metres of head.
The 184 is now available with a 3.7kW single phase motor for those situations where high pressure and flow are needed, but bringing three phase power to the site is not economical.
---
14 Series
Product Description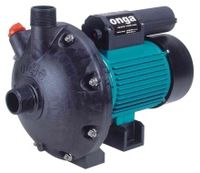 Onga is a leader in the use of injection moulding for pump components. This is evident in the 14 series, which couples hydraulic design and corrosion-resistant high grade moulded materials. This provides a general purpose pump that is suitable for high head water transfer, tank filling, irrigation and circulation duties. Flows of up to 500 litres per minute or heads over 40 metres are available from this range.
---