Circulator Pumps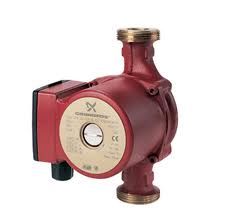 UPS can be operated at three speeds.

ALPHA 2 automatically controls the differential pressure by adjustment of pump performance to the actual heating demand, without the use of external components.
The circulator pumps in cast iron pump housing version are specifically designed for heating systems.
For underfloor heating systems, it is advisable to use the stainless steel version, type ALPHA 2 N* and UPS N*, as the pumped liquid may often become aerated, causing an ordinary cast iron pump housing to corrode.

* Replaces Bronze versions
The ALPHA 2 and UPS pumps are of the canned rotor type, i.e. pump and motor form an integral unit without shaft seal and with only two gaskets for sealing. The bearings are lubricated by the pumped liquid.
The appropriate union set is required to connect to BSP pipe systems.

Circulator Pump
Call for Price