9.22 Magnum
Handles rough terrain with a precision finish...
The Climber 9.22 Magnum combines the features of the Climber 9.22 with a 130cm wide cutting deck. The innovative cutting deck is highly functional as it provides both steep and undulating properties with a quality finish on a manicured lawn. It's cutting width allows for increased productivity, and it's design offers two functions - rear discharge for longer grass and mulching for a quality finish. There are many applications that require the design of the Climber to handle steep terrain, but also the quality of a precision deck to maintain a manicured finish on steep slopes.
With the same specifications as the Climber 9.22, the Climber Magnum has a 130cm (51") three bladed cutting deck creating the ultimate high quality lawnmower.
The Magnum is designed for properties that are undulating and/or steep, but need a quality lawn finish.
The specially designed Magnum deck is unique in its ability to leave behind a great result on a manicured lawn while safely mowing in places you couldn't take a normal ride on mower. The deck comes configured with the mulch baffle installed. The best mulching results are obtained when the lawn is cut little and often and the Magnum does a beautiful job when mowing the top 25mm of a lawn. With the deck's rear mulch baffle removed (a simple task) the Magnum is capable of mowing grass up to 30cm tall.
The Magnum allows you to cut the grass all over your property. With differential locking and front brakes you can take the Climber places you could never mow effectively or safely with a standard ride on mower. It also allows you to mow in conditions like when the grass is damp and slippery that would have been impossible on other machines. Its low slung centre of gravity and weight distribution allow you to safely mow up and down 30 degree slopes and across 17 degree slopes. And when it comes to mowing around the house, lawn, paths, children's areas the Magnum does a beautiful job.
For Australian and New Zealand conditions where many of the installations are on blocks that were once paddocks the Magnum is fitted with tractor tyres. Turf tyres can be fitted on request as they are an optional extra.
130cm (51") multi pupose deck for quality finish (mulch and rear discharge)
Extremely low centre of gravity Front brakes
Balanced weight distribution to provide maximum stability
Differential Lock for traction to conquer those steep slopes
Low noise levels engine
Hydrostatic transmission
A large 13 litre fuel tank
Ergonomic and safe design incorporating engine roll bar
Will safely go places a tractor cannot go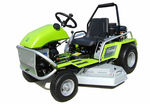 Grillo Climber 9.22 Magnum Ride on Mower
Call for Price