Why Tankmasta
When you're looking at water tanks, don't be fooled into buying the cheapest tank on the market, not all water tanks are equal. Tankmasta's water tank range are Australian designed and manufactured from the highest quality UV stabilised and food grade quality polyethylene. Tankmasta's water tanks meet the required Australian standards and are eligible for a range of rebate schemes across Australia, further more Tankmasta's water tanks are designed to meet the Australian certified 'tick of approval'.
When you buy a Tankmasta water tank, you're buying quality, flexibility and peace of mind. We offer a 10 year manufactures warranty on our above ground tanks as per the recommendation of the well established ARMA (Association of Rotational Moulding Australasia).
Certified & Rebate Ready!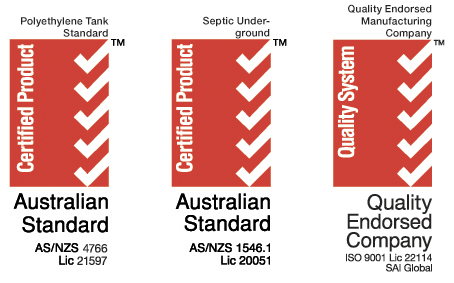 When you purchase Tankmasta; you purchase quality, quality design, quality manufacturing and quality customer service.
Certified Product:
All Tankmasta T2 Above-ground Tank Range are certified to Australian Standard AS/NZS 4766 Polyethylene Tank Standard, Licence Number 21597.
Certified Product:
All Tankmasta Underground Tanks (Toroid Donut and Bagel) are certified to the Australian Standard AS/NZS 1546.1 Septic Underground Standard Licence Number 20051.
Quality Systems:
Tankmasta, Viscount Rotational Mouldings is a quality Endorsed Manufacturing Company, Quality Endorsed Company, ISO 9001 Licence Number 22114 SAI Global.
Tankmasta's got the five ticks of SAI Global approval across the board!
Tankmasta; because not all tanks are created equal.